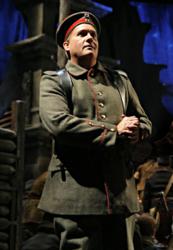 Philadelphia, PA (PRWEB) March 01, 2012
Season Highlights:
Corrado Rovaris, OCP's Jack Mulroney Music Director, renews contract through 2016.
Opera at The Academy Series:
New, art-inspired La Boheme opens the season featuring the returns of Norah Amsellem, Leah Partridge, and Troy Cook, with Bryan Hymel in his OCP debut.
OCP American Repertoire Program features East Coast Premiere of Silent Night by Kevin Puts and Mark Campbell in a new co-production with the Minnesota Opera starring William Burden, Kelly Kaduce, Troy Cook, Liam Bonner, and Craig Irvin.
A New Production of The Magic Flute from Director Robert B. Driver starring Antonio Lozano, Elizabeth Zharoff, Mark Stone, and the OCP debut of Rachele Gilmore.
Aurora Series for Chamber OPERA AT THE PERELMAN SERIES:
Curtis Opera Theatres new production of OWEN WINGRAVE in association with OCP and Kimmel Center Presents
The OCP Premiere of POWDER HER FACE by Thomas Ad